Newsletter
AWS's search for AI momentum
Today: how AWS is trying to elbow its way into the generative AI conversation, a scary new flaw threatens cloud servers, and the quote of the week.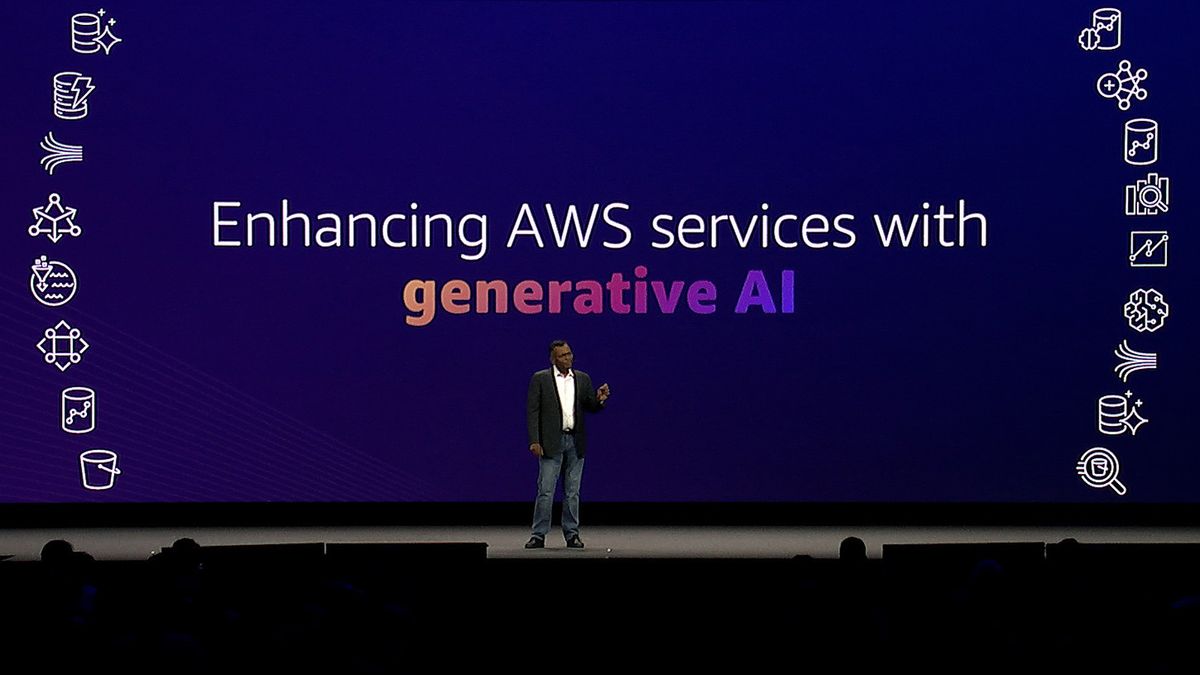 Welcome to Runtime! Today: how AWS is trying to elbow its way into the generative AI conversation, a scary new flaw threatens cloud servers, and the quote of the week.
(Was this email forwarded to you? Sign up here to get Runtime each week.)
---
Long distance runner, what you standin' there for
Reality is setting in across enterprise tech seven months into the generative AI revolution, and almost everyone is running out of new and unique things to say.
AWS CEO Adam Selipsky used the "three steps into a 10K race" metaphor for what felt like the 10th or 11th time this year during an otherwise interesting interview with the Financial Times this week describing the push to carve out generative AI mindshare this year. It was a big week for AWS's AI ambitions, and it introduced several new AI-related services during the AWS Summit in New York.
AWS will add foundation models from Cohere, Anthropic, and Stability AI to its Bedrock service, which provides an API to those models for AWS customers to use in their applications.
Amazon Quicksight users will be able to use natural language queries to produce business intelligence reports.
AWS Healthscribe is a brand-new service for software developers working in the healthcare industry that can generate transcripts of clinical notes.
And, perhaps most fundamental for a company like AWS, customers can now get their hands on Nvidia's latest H100 GPUs, which are a hot commodity this year.
Selipsky is correct that the generative AI opportunity is going to take some time to develop. Just ask Microsoft investors, who were quite disappointed this week to learn that the architect of this year's hype cycle doesn't expect to see a financial impact from its AI investments until next year.
In the meantime, AWS will attempt to position itself as the "enterprise" generative AI company, staking a claim to being the adult in the room while Microsoft and Google play around with consumer chatbots and search.
"I think a couple of other companies have been building — or talking about — consumer-facing chat interfaces, which is fine. It's super interesting and will absolutely have a use. But it's not what a significant enterprise needs," Selipsky told the FT.
This positioning is a little tricky, given that Microsoft still nurtures enterprise software relationships that predate the founding of Amazon.
But it's a bet that customers that have put AWS at the center of their IT strategy will at least kick the tires on its generative AI services before considering alternatives.
The generative AI boom might be one of the first times AWS has responded to a new tech trend like a legacy enterprise tech company.
AWS is used to inventing those new tech trends; it blazed a trail for cloud computing in the enterprise at a pace that forced everyone else to catch up to its lead.
In AI, however, AWS has had much less of an advantage over its cloud rivals.
For years AWS has had a chip on its shoulder over perceptions it was behind on AI, bristling at Google's popularity with AI-focused customers as it struggled to get business for its own AI investments in services like SageMaker last decade.
Right now, AWS's generative AI strategy sounds a lot like what IBM, Oracle, Dell, HPE, and others said to their customers for years as cloud computing exploded: You already do a lot of business with us, and don't worry, we can figure out a way to give you the shiny new thing too.
But when it comes to making money from the generative AI craze, AWS has as good a chance as any established enterprise tech company.
"... nobody knows if the winning technologies have even been invented yet or if the winning companies have even been formed yet," Selipsky told the FT.
AWS may not have produced the breakthroughs that launched generative AI, but there are few companies in the world that are better at operating software of any kind at massive scale.
We'll learn much more over the next year about where and how enterprises really want to run their AI workloads, especially as to whether or not there will be a first-mover advantage to the generative AI buildout.
---
Another depressing MOVEit update
Victims of the MOVEit security breach continue to surface more than a month after the problem was first identified, and it's getting harder to know when the worst might be over
This week Maximus, a government software contractor, and Deloitte joined the ranks of companies that lost data to a vulnerability in Progress Software's MOVEit file-transfer software. As many as 34.5 million people have now been affected by this breach, according to Techcrunch.
This situation is especially fraught because it's not clear how many companies may have been contacted by the Clop ransomware gang and paid up in order to keep their secrets secret. The 2022 collapse of the crypto market had many security professionals hoping for a respite from ransomware attacks this year, but Axios reported this week that even discounting the effects of the MOVEit disaster, ransomware attacks were up 128% in June compared to the previous year.
---
Quote of the week
"Let's just say it: A lot of people want to use RHEL, and they don't want to pay for it." — Red Hat's Mike McGrath, on the company's decision to hobble the Linux clone market.
---
The Runtime roundup
Ubuntu users have patches to apply after new vulnerabilities were identified that could affect up to 40% of instances of the popular cloud operating system.
The Biden administration plans to enact new restrictions on investments in China for AI, semiconductor, and quantum computing applications, according to Bloomberg.
A stealthy Middle East startup has hired several U.S. cloud veterans to help it build out a GPU cloud, according to The Information.
---
Thanks for reading — see you Tuesday!