Q&A
Zendesk CEO Tom Eggemeier: We have structured data, and our competitors don't
Tom Eggemeier believes that a key product-strategy decision Zendesk made long before most of us had heard the term "generative AI" could spark a rebound in the company's fortunes.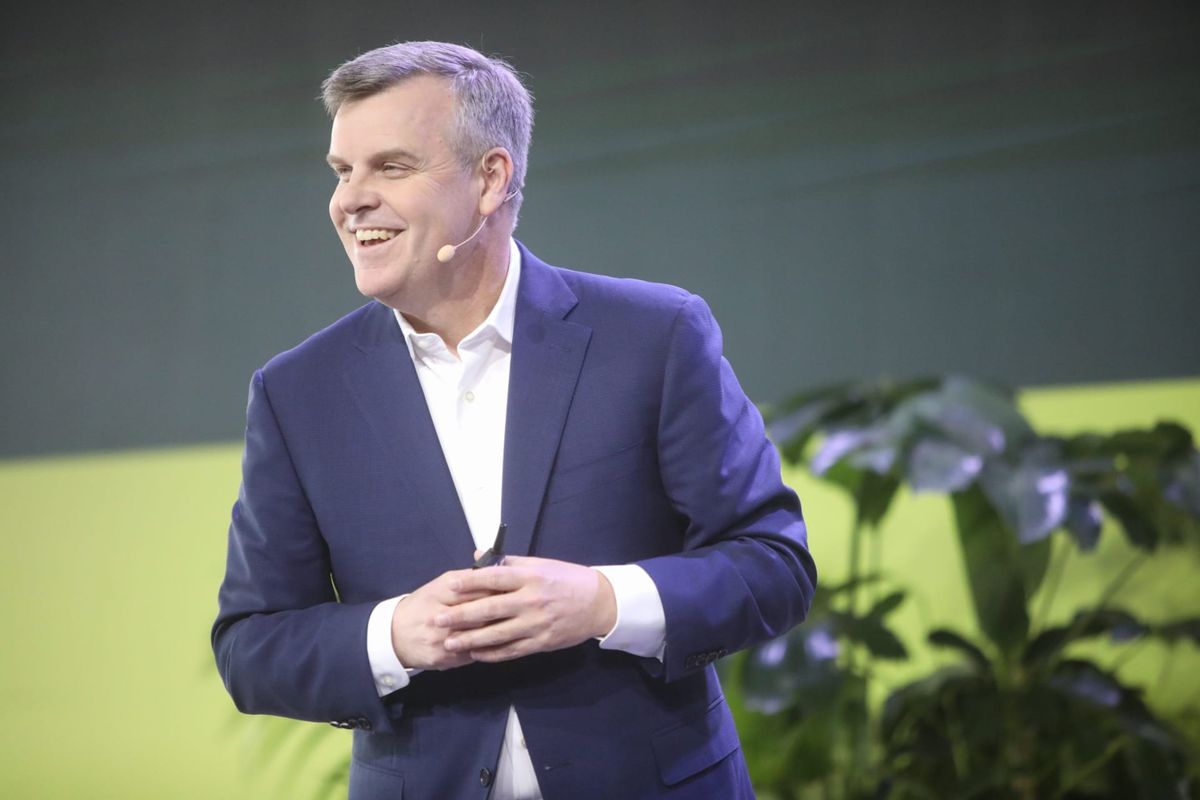 Zendesk saw its share of drama during 2022, beset on all sides by activist investors and private equity suitors amid a doomed bid to acquire SurveyMonkey partner Momentive. Tom Eggemeier's Permira private equity fund won the battle for control of the customer-experience software company in the end with some help from Hellman & Friedman, and he became CEO in November 2022.
Right around that time, enterprise tech spending began falling, slowing growth in the sector to rates not seen since 2008. Zendesk revenue surged during the early days of the pandemic as businesses scrambled to serve customers through new online channels, up 32% in the fourth quarter of 2021, but suddenly everyone was watching their spending more closely as inflation and interest-rate hikes brought an end to the party.
The company laid off hundreds of employees and raised prices on several key products this year to try and hold the line, but now Eggemeier believes that a key product-strategy decision the company made long before most of us had heard the term "generative AI" could spark a rebound in the company's fortunes.
"We did not anticipate, quite frankly, what AI would do to the market," Eggemeier said in a recent interview, explaining why Zendesk's long-ago decision to add structure to the data its customers use to evaluate their own customers' experiences is paying off as companies struggle to make sense of unstructured data. "To a certain extent, we got lucky."
In hopes of turning that luck into revenue, Zendesk launched several AI-related products this week. During our conversation last week, Eggemeier touched on the current state of tech spending, how the race to build customer-data platforms is shaking out, and why "clean" data is better than dirty data for AI applications.
This interview has been edited and condensed for clarity.
It's been not quite a year since you've joined the company, a year that's been characterized by a bit of a reset in tech spending, where everyone is watching their dollars a little bit more closely than they were in 2021. What's your sense of how that looks from Zendesk's perspective?
We definitely have seen a slowdown in spending from a macro perspective, and I think just about all application providers like ourselves have seen that slowdown. We should still be growing double digits this year, so we're happy about that. But I think short term, there's definitely a slowdown in the customer experience and quite frankly most application spaces.
More customers are looking for (ways to) increase their revenue, keep their customer base, keep their employees happy, keep their customers happy, and decrease costs simultaneously. We feel like we play well into that trend because if you get CX (customer experience) right, (the) more loyal customers spend more with you.
We're also really, really easy to use and intuitive to implement and train people to use the software so they can interact better with their customers. So we believe we have cost-savings opportunities, not only us versus our competitors, but also in using AI to assist customer-support agents in doing their jobs better, which helps with employee satisfaction.
When you're competing for deals, who do you find yourself bumping up against usually these days?
I'd say we have two major competitors that we bump up against the most: Salesforce, and (its) Service Cloud, and Freshworks. We monitor and measure this a lot and those are the two competitors we have bump up against the most in the customer-experience space.
In this IT and HR space that's really growing for us — it's approaching about 20% of our business — I would say it's more Freshworks and then ServiceNow.
Last year, there were a lot of people talking about the need for customer data platforms (CDPs) before AI sucked all the oxygen out of the room. I know that's not exactly your business, but I would imagine you had some insight into how that's evolved over the last year.
Our view on CDPs is they should be open and adaptable. That means you can bring any data from any system to fully blend your customer-experience data into your business processes. Our customers are dealing with their customers on a day-to-day basis, and we want to make sure that they can deliver a tailored service in the most effective way possible. So data from Zendesk can be added to a CDP, or the other way around; data from a CDP can be added to enhance the customer experience.
If you've got dirty unstructured data, it's more difficult to make better predictions with AI to get to the best customer outcomes.
We actually have an amazing amount of anonymized data. We're getting about 19 billion tickets a year. So we've got a lot of data that we think is going to be a competitive differentiator because it's been fairly structured, in that most of those 19 billion tickets have a "was your customer experience good or bad or neutral?" (result).
We're able to take qualitative-slash-quantitative information from our customers — again on an anonymized, very private basis — with those 19 billion tickets and glean a lot on how we can make sure that we're able to replicate the most obvious or most repetitive requests from our customers so they can solve those from an AI perspective, so the agents know the best answers and the best way to get the highest customer-service scores.
CDP data is really important and we're going to see a continued evolution. I think it mixes with AI in that if you've got dirty unstructured data, it's more difficult to make better predictions with AI to get to the best customer outcomes.
Do you have a role to play in cleaning up that data?
(Over the last few years) we have taken that interaction data, those billions of tickets, and we've made sure we've cleansed that — again, on an anonymous, private basis — by vertical (markets).
That's been like a two-to-three year process that we've been doing before my time, I give a lot of credit to Zendesk for a long-term perspective. What that does is it might take the accuracy of an AI prediction from like, 50% to 60%, to more like 80%/85%/90% plus. And then, based upon a customer's data, we can go tune that even up (more).
Our real big value proposition is you can get real accurate interactions, whether it's a bot, whether it's an agent that we're trying to help or whether it's triaging customers based upon this work that we've done over the past two or three years.
You mentioned companies like Salesforce and ServiceNow, among your competitors. Those are companies that have been around a long time and have a lot of customers and a lot of customer data. You're pointing toward these 19 billion tickets as kind of a unique differentiator; can you explain that a little more?
I think it was forethought from our founders (at) the founding of the company now 15 and a half years ago (that) we had pretty structured data models on these 19 billion tickets. And so we don't believe — and I'm saying believe — we don't believe anyone else has 19 billion interactions that are in the very structured data, or fairly structured data (formats) that we have.
We think that's the differentiator here; a lot of people might have more tickets or the same amount of tickets or less tickets, okay, but they probably don't have it as structured as we do. When we built the (new) models from talking to some of the people like our CTO, Adrian McDermott, he said, there's a variety of reasons we did that.
We did not anticipate, quite frankly, what AI would do to the market. So, to a certain extent, we got lucky; first, we have the tickets (but) I think most people have the tickets. Second, we have most of them structured in data sets that are easily analyzed and used. But third, and most importantly, we have them in this positive/neutral/negative disposition from customers on those tickets.