Newsletter
Adam Selipsky on AI, M&A, and H2O
Today: AWS CEO Adam Selipsky holds court in Seattle, Google gets ready to challenge OpenAI, and the quote of the week.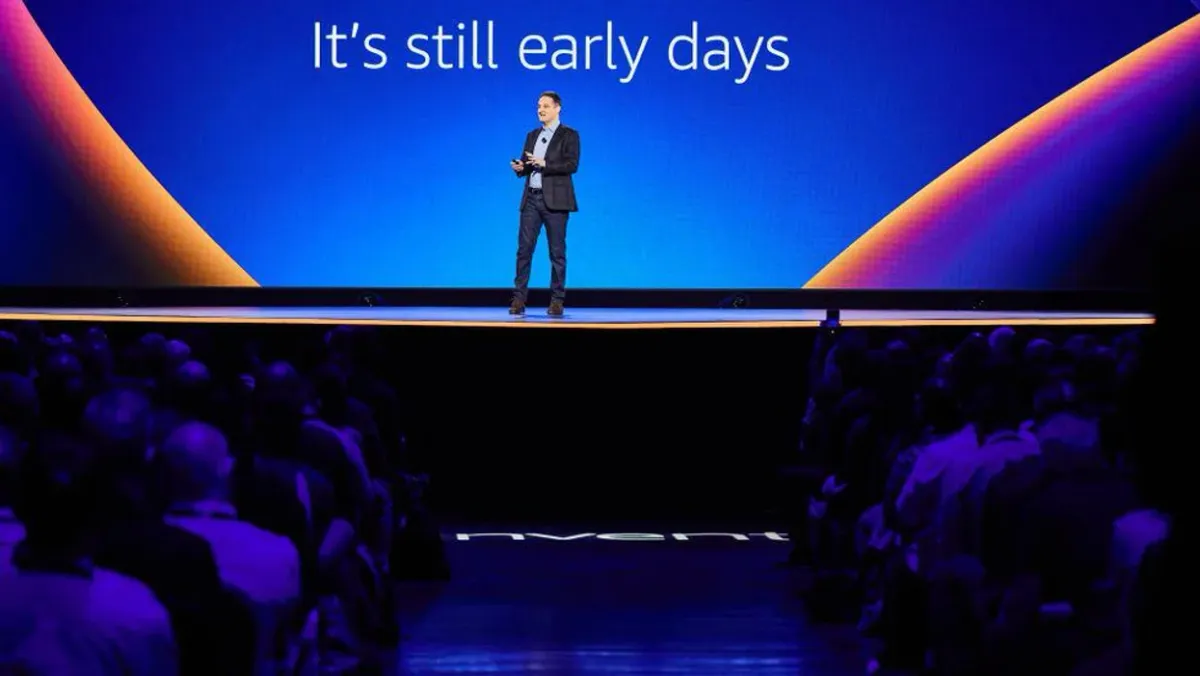 Welcome to Runtime! Today: AWS CEO Adam Selipsky holds court in Seattle, Google gets ready to challenge OpenAI, and the quote of the week.
(Was this email forwarded to you? Sign up here to get Runtime each week.)
---
Day zero point one
Long accustomed to dictating the pace of the enterprise infrastructure market, AWS has found itself on the defensive this year with the rise of generative AI. After all, the key technology behind OpenAI's ChatGPT — transformers — was developed at Google and brought to life through heavy investments from Microsoft.
AWS hosted a media day at its Seattle headquarters Thursday (an event that several veteran reporters and AWS reps believed to be a first) focused heavily on its plans for the generative AI era. Before capping off the day with a wide-ranging press conference, CEO Adam Selipsky trotted out a new metric for gauging the evolution of this technology: "it's Day 0.1 in generative AI," he said, a riff on Amazon's famous Day One mantra.
A selection of his comments follows below.
On AWS's approach to generative AI:
Selipsky: We cannot be more excited about the possibilities for our customers, and for the reinvention that we're sure is going to happen for almost every application that they run.
I think it (would be) a little too much hubris for anyone to believe that they know where and how this is going to evolve. This is going to be fundamental, this is going to change a lot of things. But we don't know who the winners are going to be, and they may not even have been created yet. And so, therefore it's incredibly important to provide choice and flexibility and the ability to experiment.
On the value and threat of open-source AI:
Selipsky: It looks like it looks like open-source models are going to be useful. It looks like they're going to have a role. I don't think anybody can really tell you yet whether as the proprietary models develop, are the open-source models going to be good enough? Because the question is not "will they be as good as the proprietary models," but will they be good enough, given the price.
I think that governments and other bodies are going to need to decide what kind of regulation they want to put in place around what types of models, in both generating and usage of different types of models. And that's why we want to be an active voice in all of these policy and regulatory discussions, because you're not going to have one individual company — be it Amazon or anyone else — deciding our open-source model is going to be used in the world. We don't have that power, and we wouldn't want to.
On AWS's thinking about acquisitions:
Selipsky: It is true that we've been considerably less acquisitive than many large technology companies. And I would say that a lot of those technology companies that have been highly acquisitive — not all, I'm not making a blanket statement — but a lot of those tech companies … acquisitions became the way that they innovate, and they then have lost their ability to consistently innovate internally.
Amazon in general, and AWS certainly as part of that, has always jealously safeguarded our ability to innovate and to innovate rapidly on behalf of our customers. We remain an innovation machine highly capable of building new things ourselves that are interesting. That being said, we're certainly going to continue to acquire things I'm sure over time, and we will remain open to not only acquisitions, but also to investments of different types.
(Editor's note: Selipsky was CEO of Tableau when it was acquired by Salesforce, a highly acquisitive company over the last decade that some would argue has lost its ability to innovate internally.)
On AWS and data center water use:
Selipsky: AWS, actually, late last year, publicly released a goal around water that we're going to be water positive by 2030, meaning we return more water to communities where our data centers exist than we consume. But we do that through a whole bunch of things, starting with avoiding using water at all.
Things like putting a data center in places like Stockholm, where over 90% of the time, we don't need any cooling whatsoever, to doing really cool things like evaporative cooling techniques, to investing in a lot of projects to return water back to the community. Things like helping to remove water-hungry, invasive plants in Cape Town, where we have data centers in South Africa, by getting rid of those invasive species, which shouldn't have been there in the first place. We're helping to return water to the community, essentially.
---
Twinning
Google is getting closer to releasing a true rival to OpenAI's ChatGPT large-language model, seeding trusted partners with an early release of AI software known as Gemini, according to The Information.
Gemini will be the foundation for everything from a coding assistant Google hopes can rival GitHub's Copilot to a new version of Bard, Google's generative AI search tool. The model was trained on the vast amounts of data Google has acquired over the years from its various products, and the report said it generates fewer hallucinations than GPT-4.
After teasing Google Cloud customers with new AI services last month at Google Cloud Next, Gemini will likely be the engine behind its 2024 AI cloud services. At some point next year we'll probably have a better understanding of the contrasting approaches toward enterprise AI services that Google and Microsoft are pursuing compared to AWS, which is investing in its own homegrown AI models but seems like it would prefer to be the everything store for a host of different AI models.
---
Quote of the week
"I've always been a remote worker my whole life. I don't work well in an office. It just doesn't work for my personality. I can't tell you why." — Salesforce CEO Marc Benioff this week at Dreamforce, months after the company told most employees they should be spending at least part of the week in an office.
---
The Runtime roundup
Chasing the generative AI boom, Salesforce plans to hire more than 3,000 new employees after laying off thousands of employees earlier this year.
TSMC appears to be getting a little concerned about chip demand heading into the holiday season, telling its chip-making equipment suppliers to slow their deliveries of new equipment.
---
Thanks for reading — see you Tuesday!