Newsletter
The Fabric of our lives
Today on Runtime: Microsoft's most interesting announcement from Build '23, more from our interview with Tomasz Tunguz, and this week in enterprise startup funding.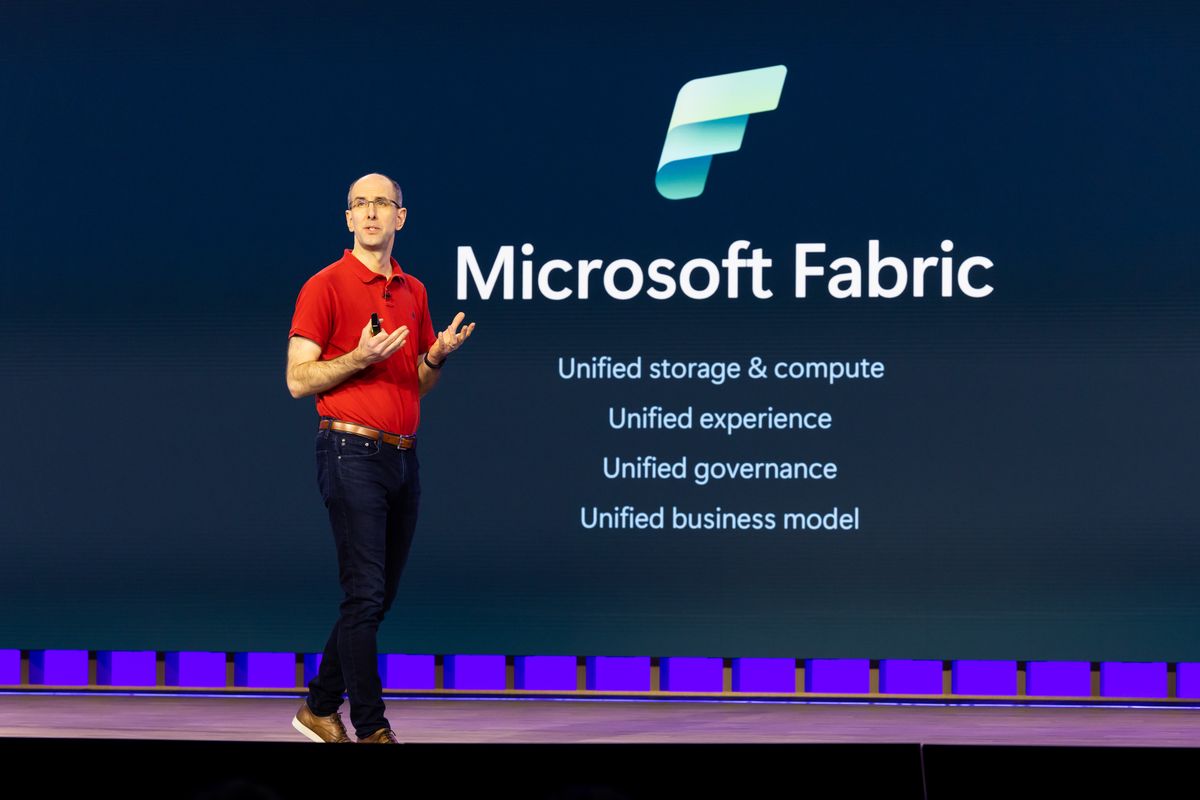 Hi there, and welcome to Runtime! You received this newsletter because you either subscribed to Protocol Enterprise or signed up after our announcement, or if it was forwarded to you, sign up here.
Today on Runtime: Microsoft's most interesting announcement from Build '23, more from our interview with Tomasz Tunguz, and this week in enterprise startup funding.
---
Will they come?
Microsoft's annual Build developer conference kicked off Tuesday in Seattle, and as might be expected from Microsoft in 2023, most of the focus was on AI. However, its major enterprise-focused announcement could help companies develop a more organized approach to their data analytics efforts, which will be an important part of anything they'll do with AI.
Microsoft Fabric takes several updates to the Azure Synapse Analytics platform and weaves them together with new versions of PowerBI and Azure Data Factory to produce a single dashboard of data-analytics options. All the tools in Fabric can access data stored in OneLake, Microsoft's new Delta Lake-compatible version of a data lake.
Modern data warehouses and analytics tools built around cloud computing have created a ton of new, compelling options for enterprise data management, but sometimes a blessing is a curse.
"When I talk to customers, one of the messages I hear consistently is that they're tired of paying this integration tax," Microsoft's Arun Ulag, corporate vice president for Azure Data, told Techcrunch.
Consider Fabric the data-analytics version of Microsoft's approach to business productivity software; you can probably find better email, team collaboration, and word-processing tools on the market, but the promise of Microsoft Office is that the whole is greater than the sum of the parts.
"The Microsoft analytics stack was fractured even in the enterprise software days, and the era of the cloud had only made it worse," wrote longtime data analyst Andrew Brust in The New Stack.
But Fabric and OneLake were also designed to be compatible with several different cloud storage and data warehousing services, allowing users to pull data from outside Microsoft's orbit.
OneLake can access data in AWS's S3 cloud storage service, for example, and Microsoft plans to add support for Google Storage in a later release.
This is especially important for enterprises that often need to share data with partners and customers, who could be using any number of different storage formats that best meet their internal needs.
Fabric will present OneLake data to end users as a SaaS application that will allow different types of users to access the same main data lake rather than having to create separate data instances for different business tasks.
But if companies want to manage those instances themselves, they'll still be able to use Azure Synapse Analytics, Azure Data Factory, and Azure Data Explorer as platform services, Microsoft said.
Fabric was a brief interlude in Microsoft's otherwise AI-heavy dog and pony show, but it looks like it could be a foundational layer for the future of its data strategy.
The service is available as a public preview as of today, and existing PowerBI customers will get it by default on July 1st.
Pricing was not released, and as always, that will be a key factor in determining just how willing customers are to abandon their current approaches and go all-in on Microsoft Fabric.
---
Promotional material
We published the full interview with Theory Ventures' Tomasz Tunguz this morning on Runtime, after a preview went out to newsletter subscribers last weekend. His main thesis? After a long bull market run, both companies and investors forgot about the basics.
"When you're selling software, you're selling a promotion; the person who's buying the software is hoping to get promoted," Tunguz said. "And they do that one of two different ways: They make more money for the business, or they materially reduce the cost of the business. … If you can't answer that question in a very concrete way, then you're in trouble."
And it's no surprise that Tunguz, like most of enterprise tech these days, is focused on data.
"Data volumes are growing at 45% a year, and so people are spending more and more time, effort, and dollars in order to understand and get value from it," he said.
Read the full interview on Runtime here.
---
Enterprise funding
Anthropic raised $450 million from several different companies, including Google, as it tries to compete with OpenAI for the hearts and minds of AI developers and providers.
Stacklok, founded by Kubernetes co-creator Craig McLuckie and sigstore founder Luke Hinds, raised $17.5 million to build out its approach to securing the software supply chain.
Union AI raised $19.5 million to build out Flyte, its open-source tool for managing data analytics and ETL workflows.
---
The Runtime roundup
TikTok promised to actually live up to its deal with the U.S. government by having Oracle audit its source code and algorithms, after The Information reported last week Oracle was basically just enjoying the spoils of having such a huge customer on its cloud infrastructure service, rather than doing the agreed-upon work.
Zoom raised profit and revenue expectations for the full year in a welcome sign for business spending, but acknowledged that it's not adding as many enterprise customers as it had hoped.
Intel no longer plans to ship a data-center chip with a CPU, GPU and memory chip integrated into a single package, as it tries to regain its footing in the server market.
Chainguard launched a new container image registry, which allows developers to use a secure bundle of code in their own applications, as part of its overall strategy to improve the software supply-chain security.
---
Thanks for reading — see you Thursday!